Jurassic World: Dominion Dominates Fandom Wikis - The Loop
Play Sound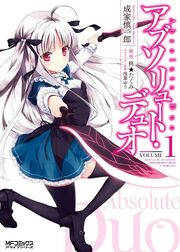 Absolute Duo (アブソリュート・デュオ Abusoryūto Dyuo) The manga adaptation of the light novel series. It was written by Takumi Hiragiboshi (character design by Yū Asaba) and illustrated by Shinichirou Nariie. The manga released its first chapter on April 27, 2013 and has since then been completed with a total of 4 volumes.The manga was published by Media Factory, under Monthly Comic Alive in 2013. In 2017, Seven Seas Entertainment officially licensed the series in North America and the first English volume was released August 29, 2017.
Absolute Duo Tea Party (アブソリュート・デュオ TEA PARTY) is the spin-off manga that was released January 23, 2015 by the same publisher and under the same magazine. It was still written by Takumi Hiragiboshi but illustrated by Toru Oiwaka.
Click the Media tab (or Here) for a quick summary about the history of Absolute Duo's Light Novel, Manga, Anime and where to watch it!
Volumes
[
]
1
Absolute Duo
Release date: November 22, 2013 English: August 29, 2017
ISBN: 9784040661131 English: 978-1-626925-39-7
Cover character(s):

Chapters list:
-

Prologue

01. To this "shield"
02.

To this "shield" II

03.

I'm interested in you

04.

It's a promise, okay?

05.

Apple Tea Again Please
2
Absolute Duo
Release date: September 23, 2014 English: December 26, 2017
ISBN: 9784040668505 English: 978-1-626926-64-6
Cover character(s):

Chapters list:
-

06.

Hotaka Miyabi

07.

"Absolute Duo"

08.

"Hit me!!"

09.

"It's so that I can obtain power"

10.

"Tooru-kun, Yurie-chan, Prepare yourself!"

11.

Miyabi's Blaze

12.

Prologue

(There are two chapter 12's in the English Manga)
3
Absolute Duo
Release date: March 23, 2015 English: April 3, 2018
ISBN: 9784040672885 English: 978-1-626927-16-2
Cover character(s):

Chapters list:
-

12.

Conclusion

13.

DUO

14.

Avenger

15.

Exception

16.

Date